Original Title for Imogene in New Orleans
Six years ago when I first started thinking about the story and writing the first draft of my current book, I was calling it Imogene and the Zulu King. I loved that title. A great writer from New Orleans named Lyle Saxon had a wonderful scene in his 1928 book Fabulous New Orleans, where the Zulu King arrived by barge on Mardi Gras day. Saxon called it one of the best traditions in all of Mardi Gras. The Zulu Social Aid and Pleasure Club is the first African-American krewe. It was founded in 1916 and has some of the most fascinating traditions in all of Carnival.

I worked on my story for a while off and on, and always calling it Imogene and the Zulu King. Years ago, we took an amazing trip to New Orleans during the weekend honoring Louis Armstrong, the Satchmo Summerfest. And of course we attended the second line parade in front of Louis Armstrong Park. The most impressive group in that second line parade was the group from the Krewe of Zulu (pictured below with the real Imogene). It was easy to see why Lyle Saxon was in awe all those years ago.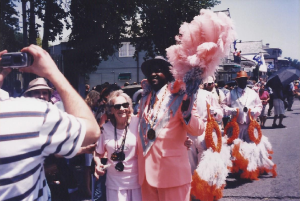 From Imogene in New Orleans:
"Look at all that peach." Neil motioned for the boys to come down to the curb. Jackson set his chairs against the iron fence and they weaved through the crowd. "Look. Zulu always has the best throws. They used to toss coconuts—real, fuzzy fruit—until someone got their lights knocked out."
The men of Zulu all wore peach-colored suits and fedoras or Stetsons with matching fabric bands. They waved tall, coral-colored fans made from feathers. They were the most debonair group in the city.
As Jackson and Billy watched, four of the Zulu members split off and walked figure eights from one side of the street to the other. They looked like peacocks strutting through the boulevard.
Imogene slapped her leg. "Honey, what a sight."
Like Imogene in the book, I was as fascinated with the Krewe in real life. They really were a sight. It wasn't long after that trip to New Orleans that I sat down and wrote the first draft. It was tough to drop the original title, but during one of the rewrites, I realized I would have to do it. I wanted Imogene to get to know the leader of the Krewe of Zulu, but the more I wrote and rewrote the story, the less it made sense to keep that character, especially as the character of Lena Ward emerged. Lena's character accomplished what I had hoped the Zulu King would accomplish. Lena gave Imogene another perspective on the city of New Orleans, and she ended up being one of my favorites in the book.



by